At first glance, I always believed that the Flamel Cross----named so because it is referenced in the works of Nicholas Flamel, the most famous alchemist in western History----simply represented
medicine
. A snake coiled around a staff or pole is almost universally recognized to have that meaning. Historically, it derives from two sources: The Old Testament, and Ancient Greek mythology.
In the Old Testament, the Israelites annoyed God into sending them a plague of snakes. After which, God instructed Moses to erect a pole in the center of their camp with a bronze snake at its top, so that by the power of God anyone bitten by a snake could look upon it and be cured. When you think about it, at the beginning this was a lesson about being thankful for what little you have. (The Israelites complained because they had grown tired of the plain-tasting mana God made rain from the sky just to keep them alive.) But, in the end, it became a lesson about giving up personal pride; I've always wondered if there were some individuals amongst the Israelites who were so angry at God, or so proud that they thought they could make due without His help, that they refused to lift their eyes to the pole, and so eventually died of the snakebite. In the context of Fullmetal Alchemist, I definitely think that both of these lessons were learned by Ed the hard way, even that his learning them defined his character development for much of the series. Just ask Vic Mignogna what his favorite line was!
For speculation on the Greek origin, see:
Rod of Asclepius
and
Caduceus of Hermes
. As for the inclusion of wings being the result of mistakes and misunderstandings, as according to the later article-----MAY I SIMPLY SUGGEST that in the 19th century they actually stemmed from common symbolism already long used in classical Christian painting? Angels were never believed to actually have wings, however painters depicted them with wings in order to show their
"proximity to God"
, or rather their enlightened, transcendent, 'higher' nature.
There is, of course, the alchemical interpretation,
"fixing of the volatile"
. Umm, well, what better to confuse than
Flamel's own words?
Good luck! (Note that at the very bottom of the page there is a link to a free online course on how to understand ancient alchemic technobabble. Sure wish that I had seen the before I read the whole darn page. Yeesh.)
Here, I show the version of the Flamel Cross that is unique to Fullmetal Alchemist, which includes a crown.
Well, first of all, I might look into
crowns used in heraldry
for ideas.
In Fullmetal Alchemist, this could simply be a reference to the fact that Amestris is a country founded on, founded
for
, and in many ways ruled by alchemy, not to mention full of alchemists who view themselvs as divine.
Or, it could mean something more individualistic, as if by blazoning it a person could declare,
"medicine and enlightenment are king"
.
However, as a writer myself, I understand just how possible it is that they may actually be nothing more than what they seam----awesome looking, added by the manga artist to make it more her own style.
But, there is one more interpretation which I'm disappointed that no one else seems to pay attention to. In the 2003 version of the anime, the Flamel Cross is incorporated into a large transmutation circle that can trap and weaken a humunculus. The key to understanding 'why this particular symbol?' is the Oroboros tattoo that all of the humunculi have. According to lovely little Wikipedia, the Oroboros----sepent that devours its own tail----represents a creature that continuously regenerates itself similarly to a phoenix. In FMA, the humunculi are immortal and impossible to kill by conventional means because of their ability to regenerate. If the humunculus is the Oroboros, then the Oroboros must be the same serpent as on the Flamel Cross. It is immobilized at first, then as it is no longer devouring its tail, we can assume that it will shortly reach the end of its life. Which is exactly what we see happen to all of the humunculi who get caught in the trap in the anime. Aside from that it was pulled from Nicholas Flamel's documents, I speculate that FMA's use of the Flamel Cross goes no deeper than that. My only possible proof of its shallowness is the inclusion of wings even on the Oroboros design. As the wings are bat-like on the Oroboros and feathered on the Flamel Cross, maybe it's just a cute way of labeling who's a goodguy and who's a badguy, with Dante and Greed being exceptions just to complicate things.
Furthermore, since it is never hinted that Nicholas Flamel himself, or even a parallel of him, existed in the Fulmetal Alchemist universe, I am left to wonder weather "Fullmetal" was meat to
sound
so much like "Flamel", and thereby the Flamel Cross is nothing more than a crest for personal identification, with Ed himself being Flamel's anachronic, Amestrian counterpart. After all, FMA fans already know that Ed's father, Van Hoenheim, is actually the
'anachronic, Amestrian counterpart'
to Paracelsus.
Holy cupcakes, I actually spelled Paracelsus. o____O
Oh, and NOBODY TELL ED THAT
MIGNOGNA MEANS "SMALL"
!!!! O___O;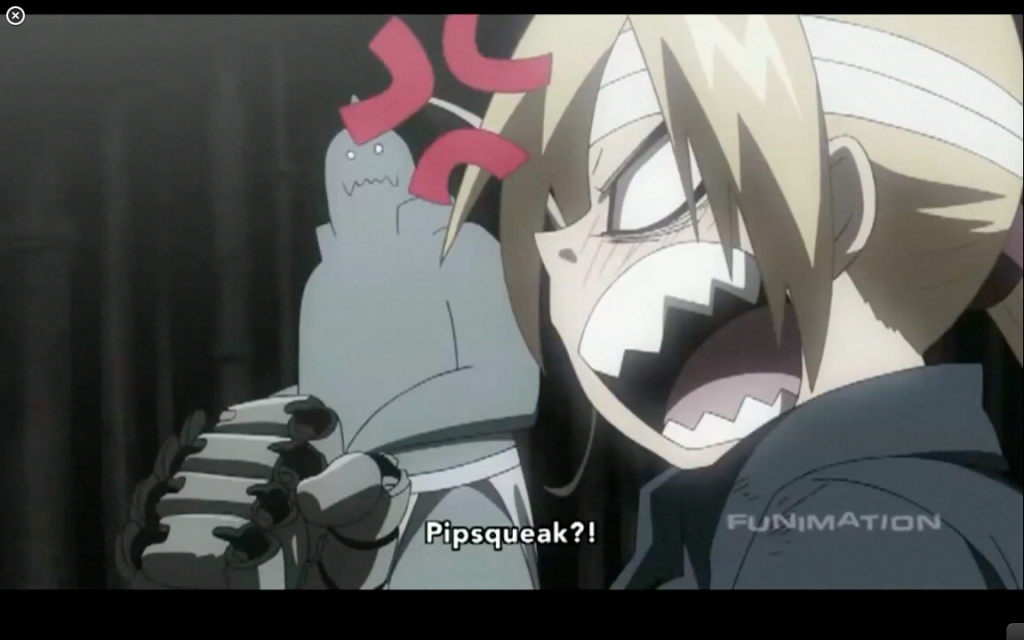 My goodness it has been a while since I posted here! Anyways, just back to stew in my rekindled Fullmetal Alchemist fandom. I've also been inducted into the official Vic Mignogna fanclub, the Risembool Rangers, and even met the man himself at a convention just over a week ago! Vic is the voice of Edward Elric, fyi! :D